The perfect fit for students seeking flexibility and portable monitors
When moving to a different country, you'll probably consider taking only the most essential items with you – especially if it's for a temporary period. When it comes to technical equipment, you will probably only take your laptop, which is not only vital for your studies but often also represent your entire entertainment centre to watch movies in your free time or Skype with friends and loved ones at home.
However, using only the screen of your laptop for studying is less than ideal. Businesses already acknowledge the fact that multi-monitor setups significantly increase productivity and implement 2 or even 3-monitor setups for their employees. So as a busy student willing to make the most of your semester abroad, you might want to consider the same strategy.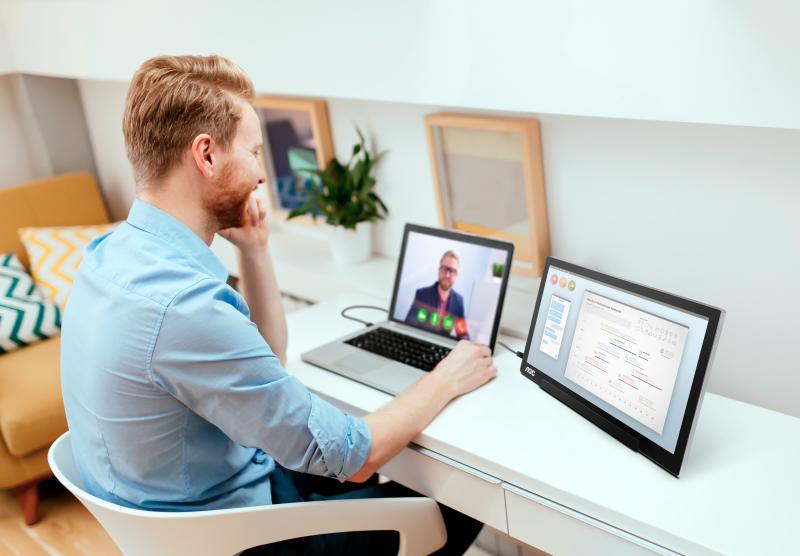 Taking digital notes while other documents are open, working on assignments as a team on a single laptop, creating and showing presentations, coding a program and testing it: all these tasks are certainly doable on a single laptop display but wouldn't all this be a lot easier and more comfortable with an extra display?
Check the AOC new line of student-oriented monitors!
Both monitors combine portability and functionality in one slim, elegant package.
I1601FWUX is a good contender for a multi-monitor setup that's compact enough at 800 grams and just 8.5 mm of thickness to fit into most laptop bags for easy on the go flexibility. And thanks to the power of USB-C technology, you can connect and power up the display using a single cable that also reduces clutter and provides a simple plug & play experience.

I1659FWUX is a great alternative for those who don't have USB-C but still want to enjoy the portability and flexibility of display weighing just 1.2 kg.